Having run a small business from 2001, I have developed some productivity routines to manage tedious, repeating tasks. Some of them save me time, others make sure things are done and followed up without my manual interaction.
Currently, my business contains 3 parts:
Web development
A webshop selling coffee capsules
The photography business (headshots and other portrait assignments)
As you can imagine, these 3 parts all claim their time in my schedule, and they all need attention.
In this post, I'll outline some of the routines I've developed to manage my business.
I hope this will be helpful to some of you out there.
Táve for client follow-up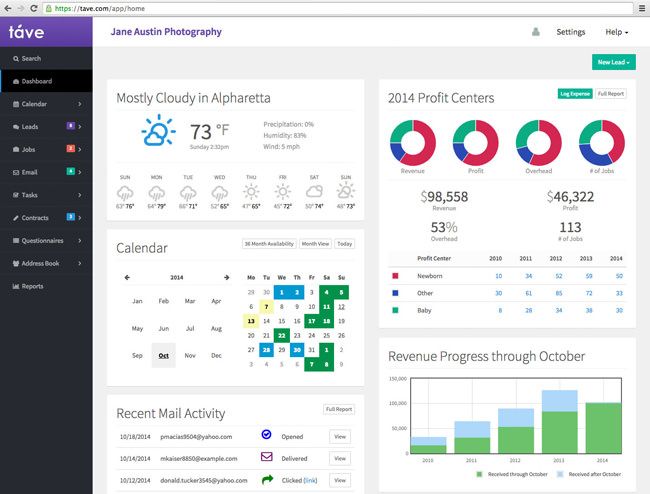 As a business, responding rapidly to client is crucial. It should be quick and efficient, and the client should get all the info they need to proceed with buying your services.
In my photography business, I have build a website with info about headshots. In this page, there is information about the service, pricing and examples of my work. There is also a contact form that feeds directly into the studio management software Táve.
When a person submits this form, I get an email from Táve, and the person is added as a lead in the system. I then go through the submission, check or available times in my studio and set up a quote and a contract. The response is sent through Táve's mail templates, which populates the email with information about the quote and the client. The process takes just a few minutes. Using templates, I make sure that I don't miss any information that the client needs.
When the client accepts the quote, an email is sent automatically from Táve to confirm the booking. This email contains info about the session date and time, studio address, link to more info about the session and my phone number in case they don't find the studio easily (it's in a big industrial area).
48 hours before the session, Táve sends another email with a reminder about the upcoming session.
Having this system in place makes sure I follow up with the clients in due time, and that nothing slips through the cracks. Because the Táve calendar is connected to my Google Calendar, the booked sessions appear in my calendars everywhere (Mac, iPhone, Watch etc).
I also have the system set up a series of todo items for me automatically. BTW, todos can trigger emails automatically when completed, which can make the system even more powerful.
I have the same type of workflow for wedding photography, with customized responses, contracts, quotes and product packages.
If you don't use Táve or another CRM or studio manager, you can use things like canned responses in Gmail in combination with filters and rules to create similar routines.
Here's a link to get 60 days of trial on Táve (normally 30 days): https://tave.com/join/iseeas
Hootsuite for social media
Hootsuite makes it easy to monitor several social media accounts in one place. I can post to several accounts simultaneously. For instance, I can send the same message to my Facebook and LinkedIn pages and to Twitter at the same time. They recently launched support for Instagram, too, but I haven't yet tested that.
I can also schedule the messages to go out at a specific time, or have Hootsuite auto schedule them. You can specify what days and times (from/to) you want to auto schedule to work with, and how many messages should be scheduled per day. This is a good way to spread out your messages over time, or to make sure a blog post gets noticed in the days or weeks after publication.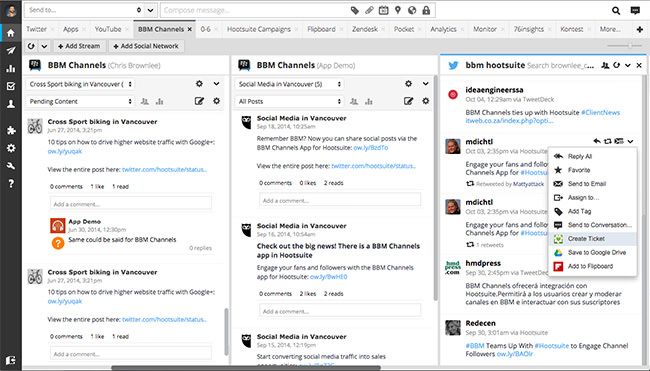 Stripe for payments
Táve integrates with Stripe, so I can set up the quote to include a deposit or a full payment and the client can pay immediately after accepting the quote.
Zapier for automation
Zapier is an online automation tool that connects hundreds of services with so-called zaps. These are small scripts that you set up in an easy-to-use interface.
Using zaps, you can do things like search for emails with certain labels in Gmail and save attachments to Dropbox.
I use this to save invoices from various vendors in my Dropbox. Makes things a lot easier when it's time to do my accounting. Before, I needed to dig through my email a lot, or make sure I always remembered to save the attachment when it arrived. Now, it all works automatically.
I also use Zapier to post new Facebook posts on Twitter, to save Stripe transactions in a Google Spreadsheet and more.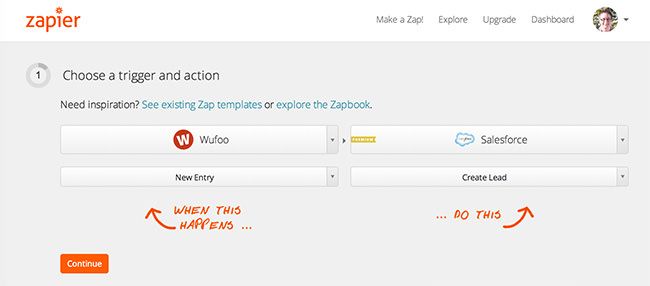 Glip - Team communications and tasks
Glip is the newest addition to my online toolbox. Glip is a tool for team collaboration and communications. It's based on a chat interface, with the possibility to set up different teams (streams) to keep conversations clean. You can add people from your own company, or add as many guests as you want. Glip has recently been chosen as the collaboration tool for the Joomla project, so that's where I heard about it.
I used Slack for a while, which is also a great tool. When I discovered Glip, I realized that what I was missing in Slack: Tasks. The addition of tasks into the workflow in Glip has been really liberating. I use Glip with developers and designers that I work with. Having tasks in the same interface as the communication is very handy, and Glip makes it incredibly easy to add tasks from within conversations.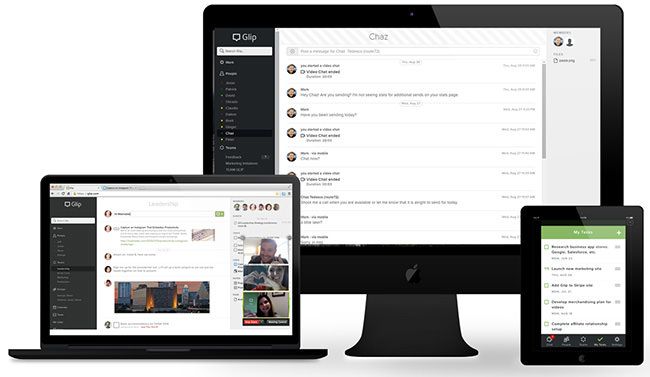 Basecamp - project management
I've used Basecamp for years now. It's a project management tool that works very well for both smaller and larger teams. I've recently downgraded to a smaller account with them, as Glip has taken over some of the projects I used to have in Basecamp. There are some projects that fit the Basecamp workflow better, so I keep it around for now. I particularly like the project templates in Basecamp. For instance, I'm working on a small publication for an organization which is published four times a year. We are 6–7 people working on the publication, and there are recurring tasks each time. I've set up a template for this project. When it's time for a new edition, I set up a new project with only a few clicks, complete with tasks, templates for texts, milestones and more.
Recently, I started using Basecamp 3, the latest iteration in the Basecamp family. It's somewhat different than the previous version, but has some useful additions and changes that I like.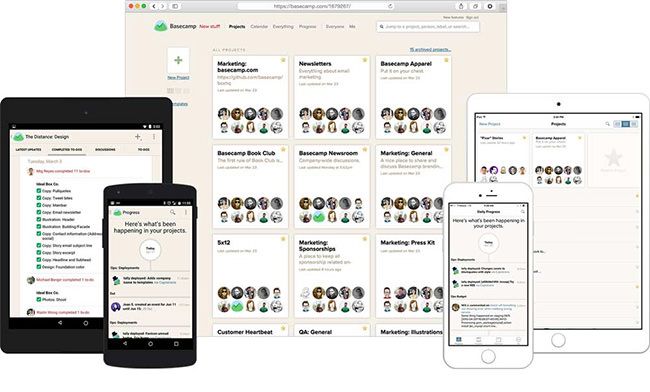 Gmail for work
I've used Gmail for years for my private email. A little over a year ago, I migrated all of my business accounts over to Gmail for Business. Now, everything is in one interface. This has been a huge time-saver. Using filters and labels, I'm able to integrate with Zapier (see above) to automate a lot of tasks that took too much time before. Spam has become almost a non-issue, something that was a huge pain before. If you haven't already, switch to Gmail.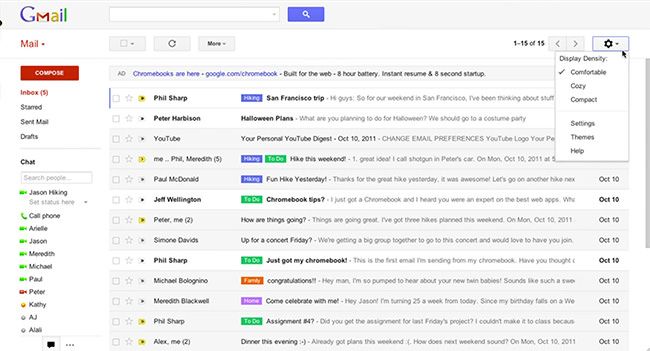 Harvest - time tracking
Harvest is a time tracking app that also features invoicing. I only use the time tracking part of it, as I already use another online tool for invoicing (a Norwegian tool). I used Tick before, but I really like the Harvest interface. The reports are great and have saved a lot of time for me when it comes to invoicing my hours. Harvest also integrates well with Glip, so I can actually track time directly from tasks in Glip.
Harvest has a few different billing plans, and for me, it turned out at about half price of what I paid for Tick. In addition, the Harvest iPhone app is great - I use it to track time, but also to track expenses when I'm out of the office. It's very handy that you can also take a picture of receipts and attach them to the expense record.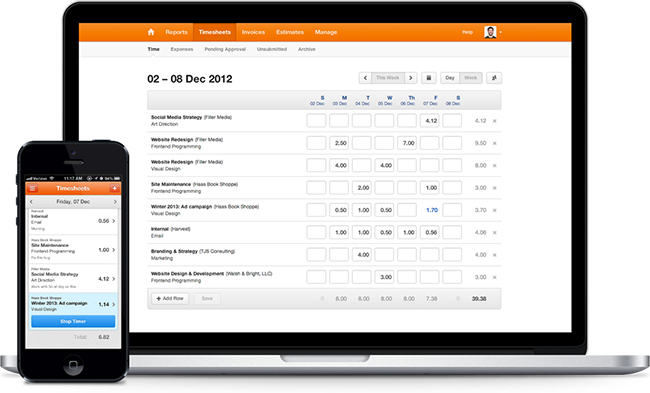 Apple Watch
Recently, I bought an Apple Watch Sport. By adjusting the notification settings on the watch and coupling this with my other routines, I now get important notifications (like new leads) directly on the wrist. This is really handy when you're busy in a shoot or otherwise, and don't have your phone nearby. It's also a lot less intrusive than checking your phone all the time.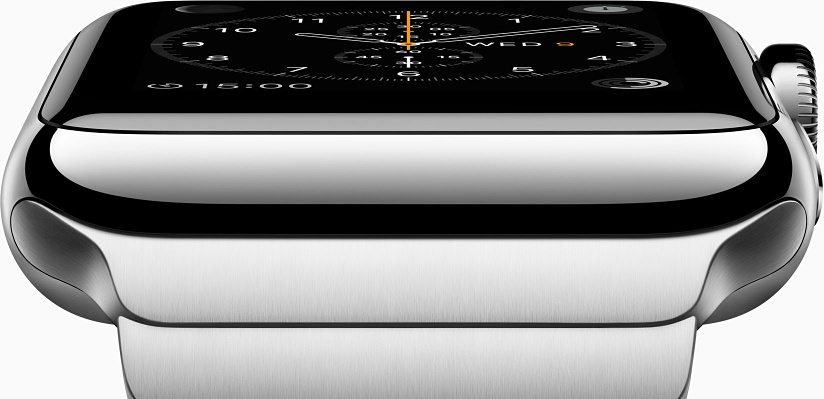 Cyfe - dashboards
Cyfe is an all-in-one business dashboard app that helps you easily monitor all your business data from one place. I've set up several dashboards, one for each area of my business. I can monitor data from Google Analytics like traffic, conversions, Facebook pages, Twitter accounts, Stripe transactions, and even search directly in my MySQL databases to pull data into tables and graphs. I've done this for a Joomla site where I monitor the amount of new articles in a graph. I have also set up a connection to Harvest, so I can see my logged hours easily in a graph. There are a lot of pre-built widgets that let you set up monitoring easily. There are several examples on the Cyfe blog on how to do this, as well as on how to build more complex setups. I had some trouble setting up the MySQL dashboard, and the Cyfe guys helped me every step of the way by responding really quickly by email. Great customer service! Using a dashboard like Cyfe is great if you want to avoid logging into several different tools to check the status of your business.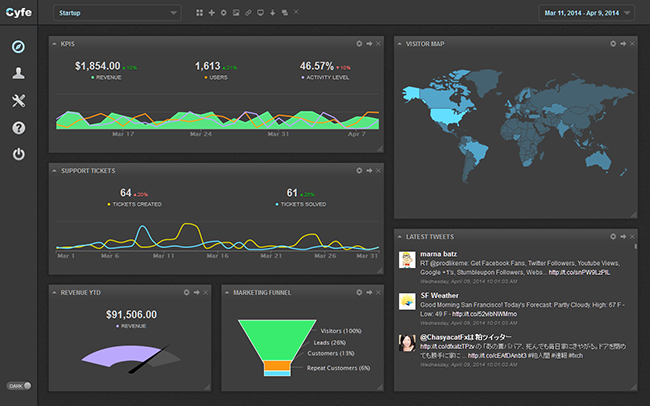 Getting these routines in place, I save a lot of time each month. Time that I can spend more wisely.