Joel Grimes is one of my all time favorite photographers. I came across him through a series on lighting on Framed Show.
Joel shoots beauty and fashion for the most part, as well as athletes and some celebrities. For years, he shot landscapes and portraits, mostly in black and white. One of his signature looks is the one-light "Rembrandt" lighting.
What Joel's mostly known for today are his beautiful composites. He creates dreamy composites using magnificent backgrounds that he shoots himself in HDR. He then combines these with shots of models or athletes done in the studio. The way he does it is so seemless. Even though you can see that they are composites from the way they are presented, they are so well done that he "sells the fake", as he likes to say it.
I've been wanting to go to a workshop with Joel for quite some time. His previous workshops have been all in the USA, though. For that reason, I've devoured his video tutorials and tried out his techniques. His understanding of light is incredible, and I feel it's very intuitive. He doesn't use a light meter and he's actually color blind! So what he does is based on his creative vision and how he sees the final image before he shoots it.
Jumped into it
In October 2013, I came across a Facebook post with Joel and his wife saying they just landed in Göteborg, Sweden. I didn't even realize they were on tour!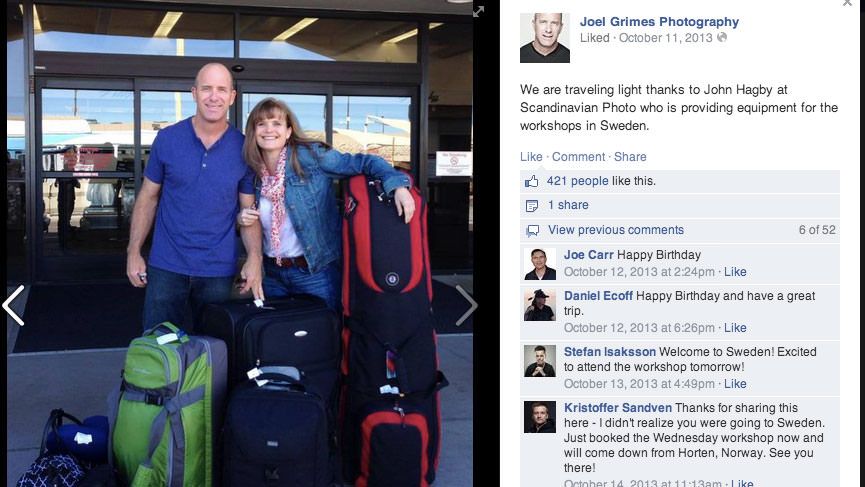 I checked the website over at Scandinavian Photo, who hosted the event, and luckily there were tickets left. I booked a ticket and a hotel on Monday, and drove down there on Tuesday evening. It took 4 hours of driving to get from my house to Göteborg. Wednesday, I finally attended the workshop and it was worth it, for sure
Workshop content
Joel explained about his background as a photographer, and the importance of finding your identity as an artist. He then moved on to discuss the different lighting setups he uses and the theory behind them. After we got a thorough introduction into different lighting modifiers, light qualities and much more, we started shooting.
Shooting
This wasn't a hands-on workshop, so Joel was the only one shooting. However, we were all around him, moving stuff around for him and looking at his iPad (attached to a CamRanger so we saw the images instantly) as he was shooting.
Post production
After shooting a couple of different setups, he went on to the post production part. This part was incredibly detailed, and I guess he could have spent a couple of days just on that. His process is very interesting and it produces some fantastic results. As with other photographers that make composites, Joel plans his composites so that all of the elements fit together. He doesn't try to force a subject to fit into a scene if it doesn't work. He shoots both the background plates and the models himself, which makes the whole process easier and the result so much better.
The results
This are a couple of the images that he created during our workshop:


---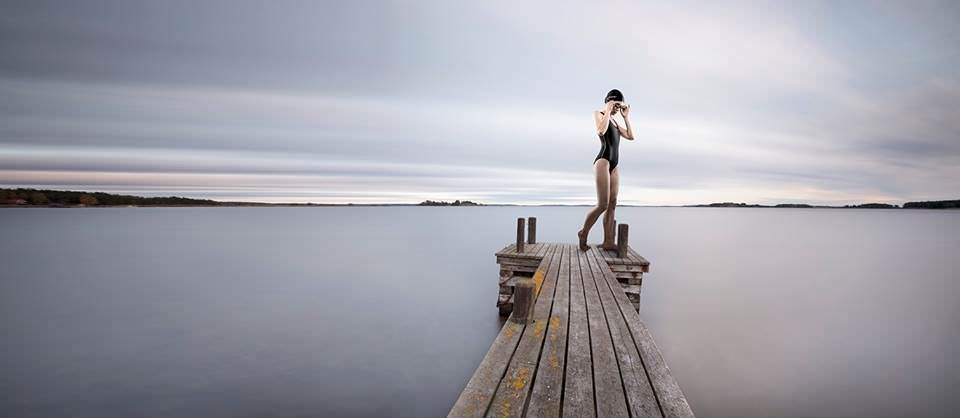 ---
The background plates were shot the day before in the Göteborg area, and the model was shot while we were watching. He showed the whole process of blending the model into the scene, masking her out and explaning every single step of the process.
I'm really happy I went to this workshop, and I definitely recommend that you do so as well if Joel is in your area.
I've been dabbling a little with composites since I was at the workshop. Still, the most valuable lessons I learned had to do with seeing light, using modifiers to create the light you want, soft or hard.
The things I picked up about techniques in Photoshop were great as well.
Still, in the end, it's all about your vision as an artist.
Want to learn more about Joel's techniques?
Check out his workshop over at CreativeLive: Commercial Photography: From Start to Finish